A sneak peek at the chic new Buttermint Finer Dining & Cocktails, which opens December 14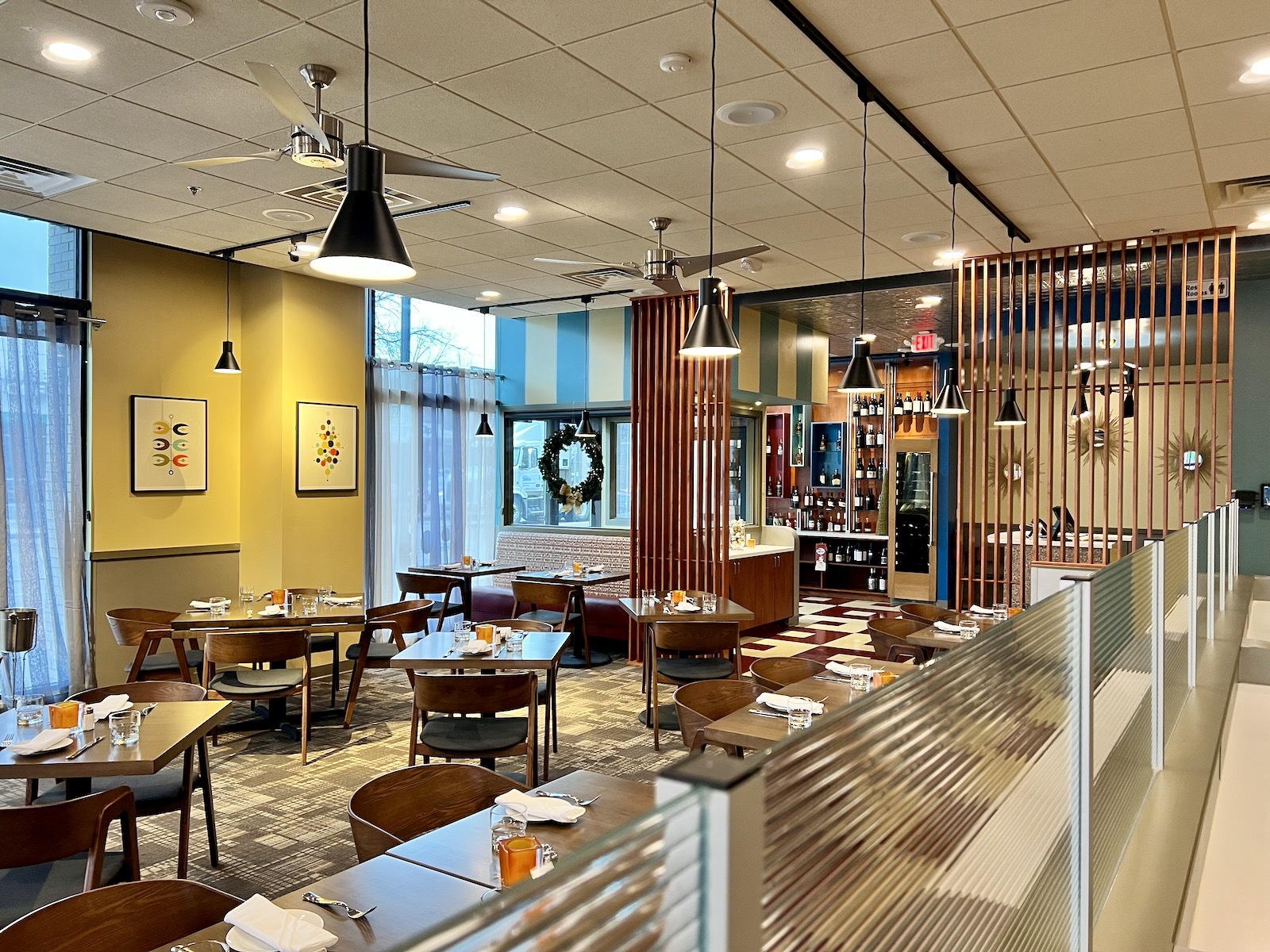 Buttermint Finer Dining & Cocktails will officially open to the public on Tuesday, December 14 at 4195 N. Oakland in Shorewood.
Behind the splashy new restaurant are the employees of Black Shoe Hospitality, who also operate Blue's Egg, Maxie's and Story Hill BKC. And they have spent the past year devising a new concept that brings together the elements of exceptional service, well-prepared food and expertly prepared cocktails in an environment reminiscent of a time when dining out was always a special occasion. .
The restaurant, which is the product of a year-long renovation, combines eclectic retro decor with modern creature comforts to create an upbeat environment that's also likely to evoke a bit of nostalgia.
In fact, the charms of the early 1960s are woven into every aspect of the otherwise modern restaurant, from cocktails to the house mint candy bar that will be offered to each guest along with their check.
Step into Buttermint and you'll find a cozy space showcasing 1960s-inspired atomic artwork, vintage-looking slatted wood room dividers, and a color palette ranging from hazy blue to golden yellow, with pops of turquoise and warm reds.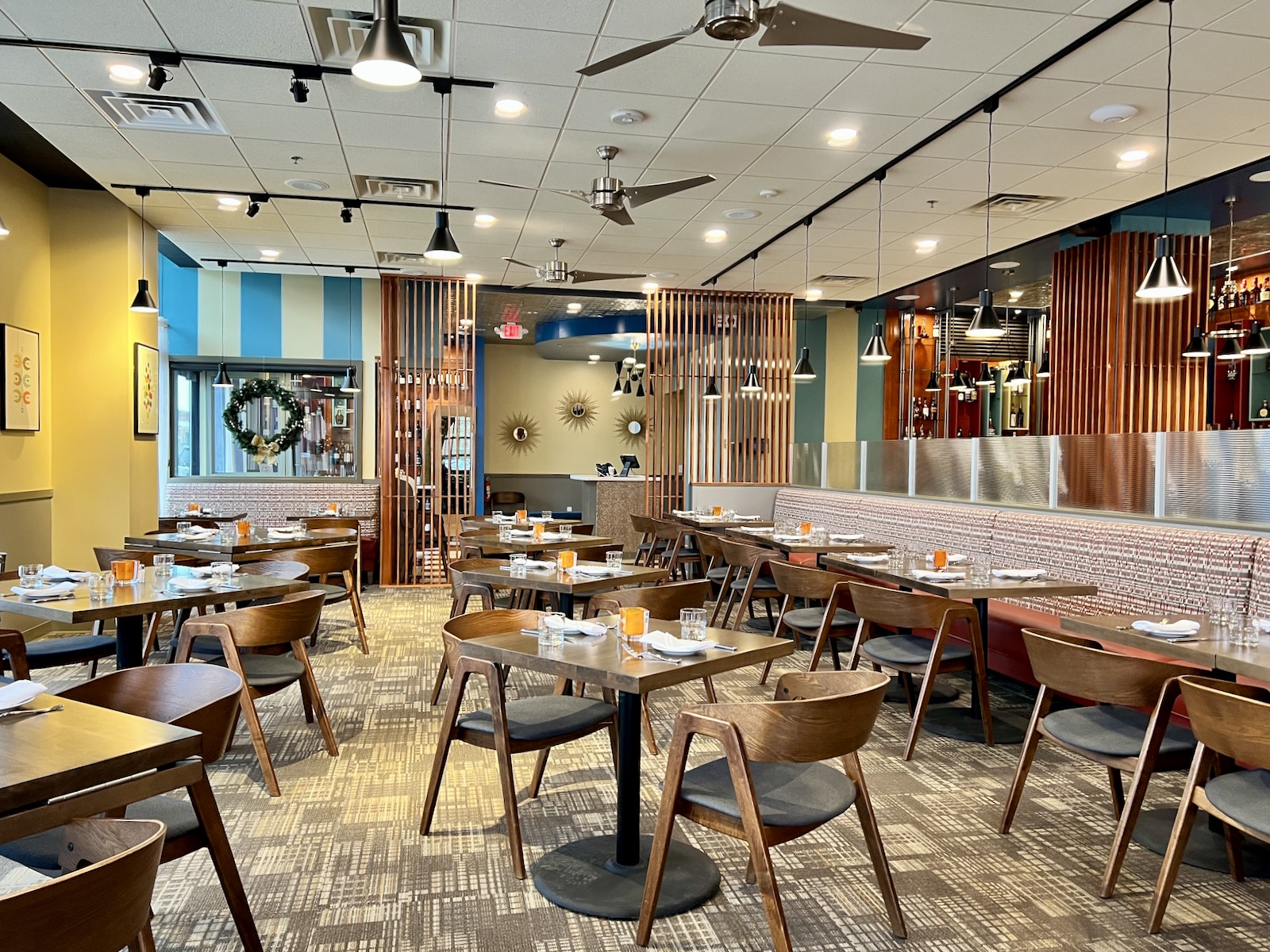 The dining area features a combination of upholstered banquettes and four trays accompanied by mid-century modern dining chairs.
The bar features colorful modular rear storage and tall, dusty mint mid-century modern bar stools designed for relaxing with friends. And yes, this is exactly the kind of place where you can just stop for cocktails and a bite to eat.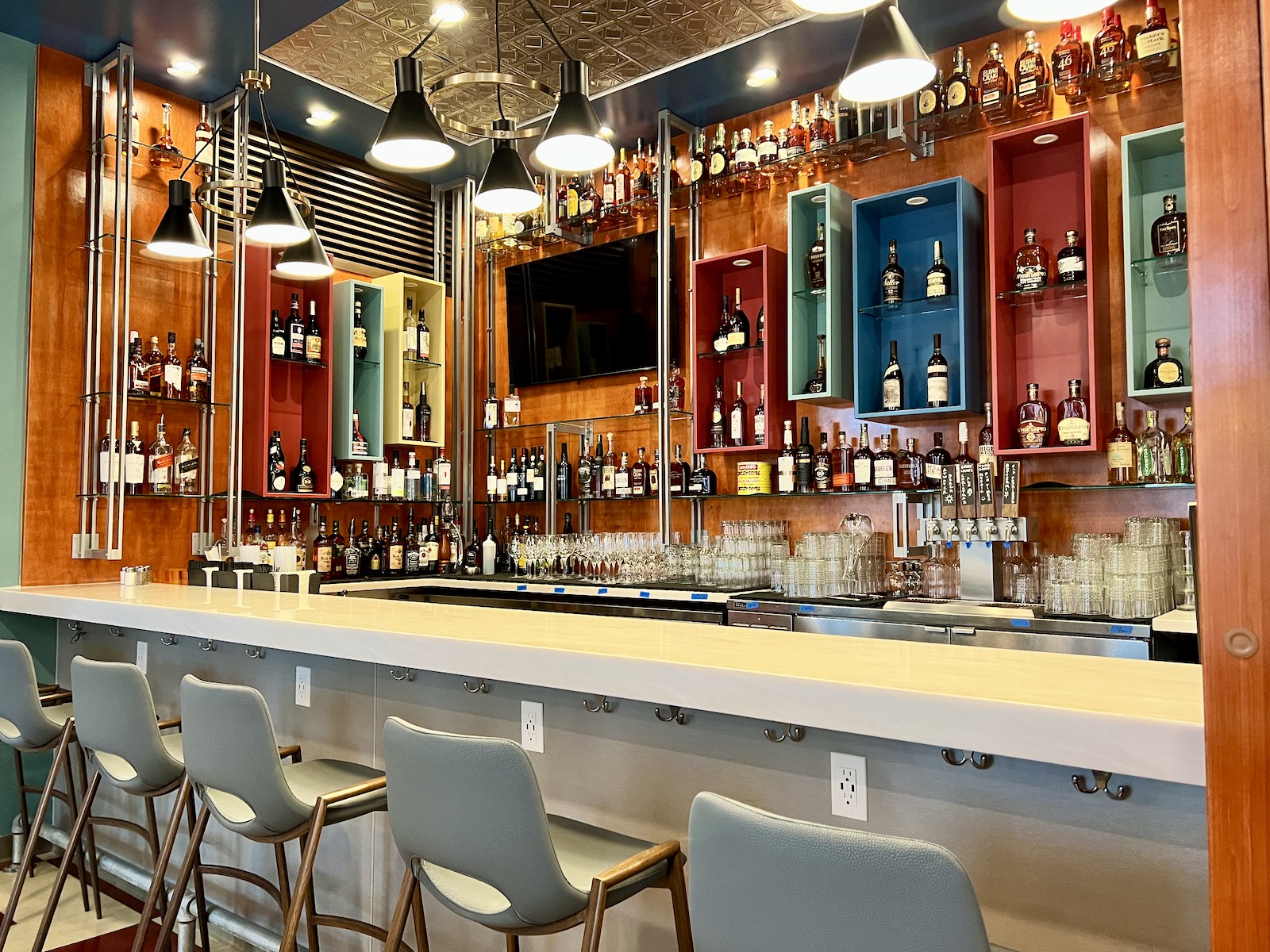 Meanwhile, a lounge area offers a combination of plush seating suitable for happy hours or cocktails and snacks with friends, as well as two four-tray tables with velvet-upholstered chairs to accommodate drop-in diners.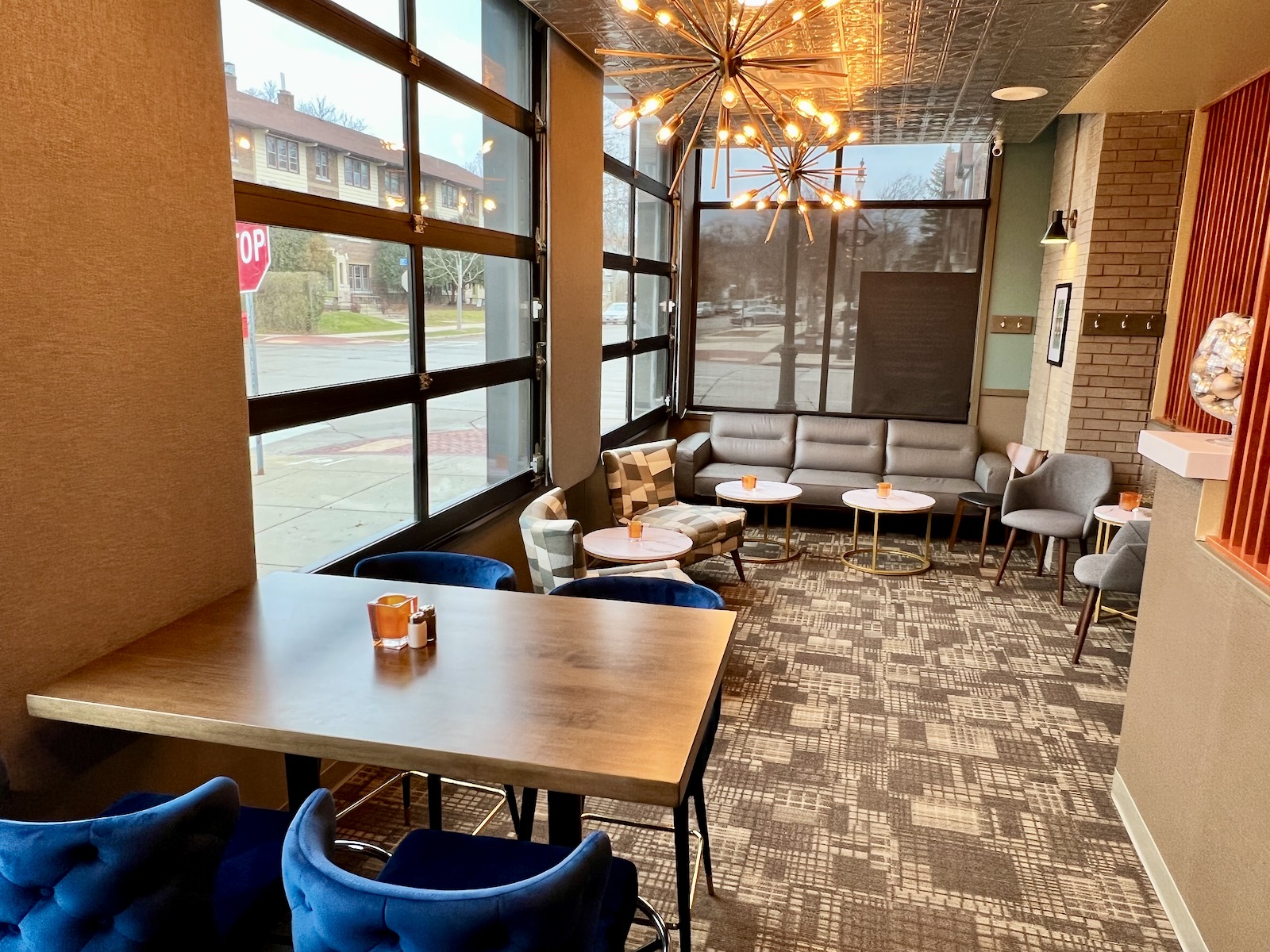 Be sure to peek into the restroom, which pays homage to influencers of the 60s and 70s, from Dr Martin Luther King Jr. and Captain Kangaroo to Julia Child, Paul Prudhomme and Alice Waters.
And don't forget to take advantage of the liquor store right at the entrance, offering your favorite drinks at reasonable prices.
Buttermint's menu, designed by co-owner and chef Joe Muench and executed by chef Brian Dubowski and his staff, is inspired by the early 1960s, an era that gave birth to the modern restaurants we know today. .
"We spent time looking at a lot of older menus to come up with the design," says Muench, noting that the opening menu is just a preview of what will happen in a menu that should change frequently. and evolve based on both the availability of ingredients and the continued creative exploration of Buttermint's DNA.
He notes that modern versions of classic dishes are meant to both incite familiarity and inspire curiosity, sparking conversation between guests and waiters.
"It's about giving people a real dining experience, an experience that delivers value and hospitality," says Muench. "We have a great team, including front desk staff who know the menu and can really take their time and interact with customers. "
This includes offering guests an intermezzo course right before the arrival of their main courses. Muench says they're currently serving a refreshing, palate-cleansing glass of green apple green tea spiked with ginger beer, meant to brighten up the palate and prepare guests for what to come.
A focal point of the dining room will be Buttermint's raw bar, which will feature an assortment of chilled prepared seafood, including freshly shucked oysters from the east and west coasts. Current seafood offerings include homemade smoked sturgeon with horseradish, cumin, and rye ($ 18); homemade clams marinated in lemon and olive oil served on a cream of potato ($ 13); and Hiramasa crudo flavored with satsuma, apple, ginger and mint ($ 14).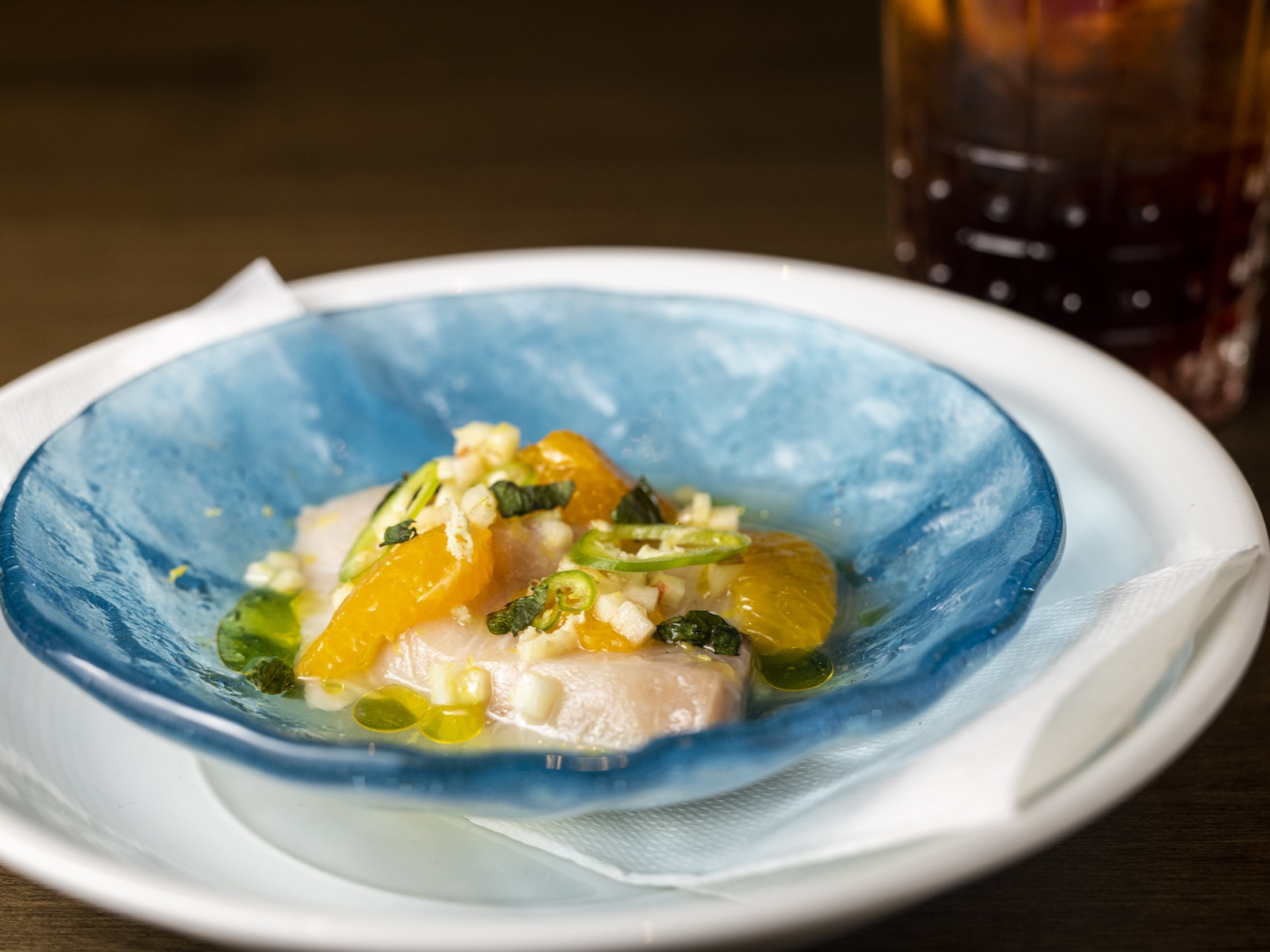 Muench says that in the future, the raw bar will likely contain items like caviar and bellini.
But – perhaps less expected – it also includes items like cold cuts and vegetables. For example, diners can order a cashew, maple and vinegar-flavored root vegetable terrine ($ 12); the duck pâté is served with blackberry port jelly, onion and marmalade ($ 13) and in a throwback to the "charcuterie" era, there's also a cold sirloin salad thinly sliced ​​dry-brined lamb served with a white bean salad, tomato jam, feta and rosemary salt ($ 14).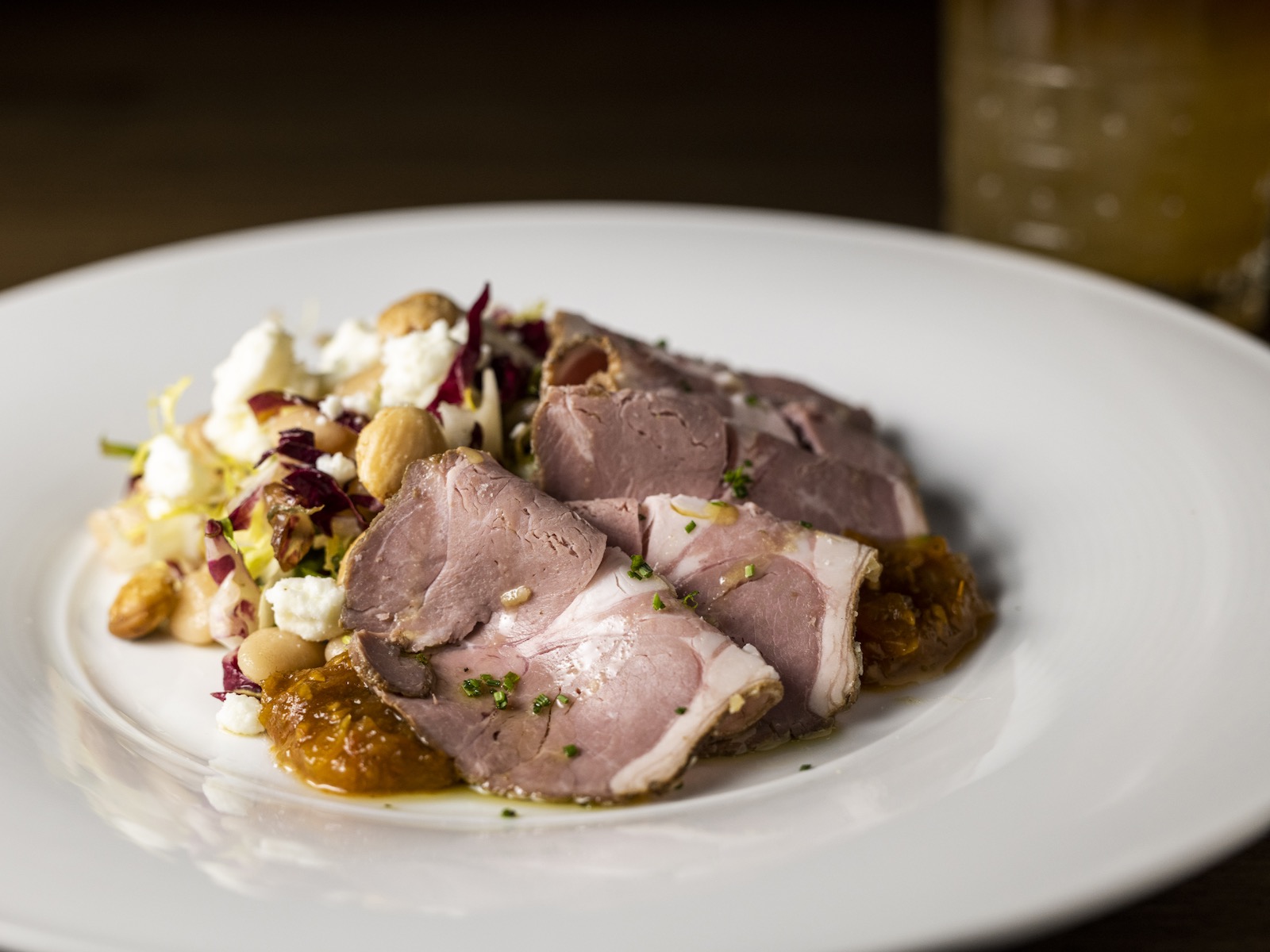 The starter menu is more than suitable for appetizers at the bar, a feast of small plates or as a precursor to a meal. Options include snack chickpea fries served with harissa ($ 9); sautéed veal sweetbreads with mushrooms ($ 16); and romanesco served with a rich maltese sauce flavored with orange ($ 12).
"We wanted there to be some familiarity and accessibility to the menu," says Muench, "It's not about being candle light."
He mentions items like the crispy chicken appetizer of tender chicken wrapped in a light, airy breading and served with a homemade XO sauce rich in umami.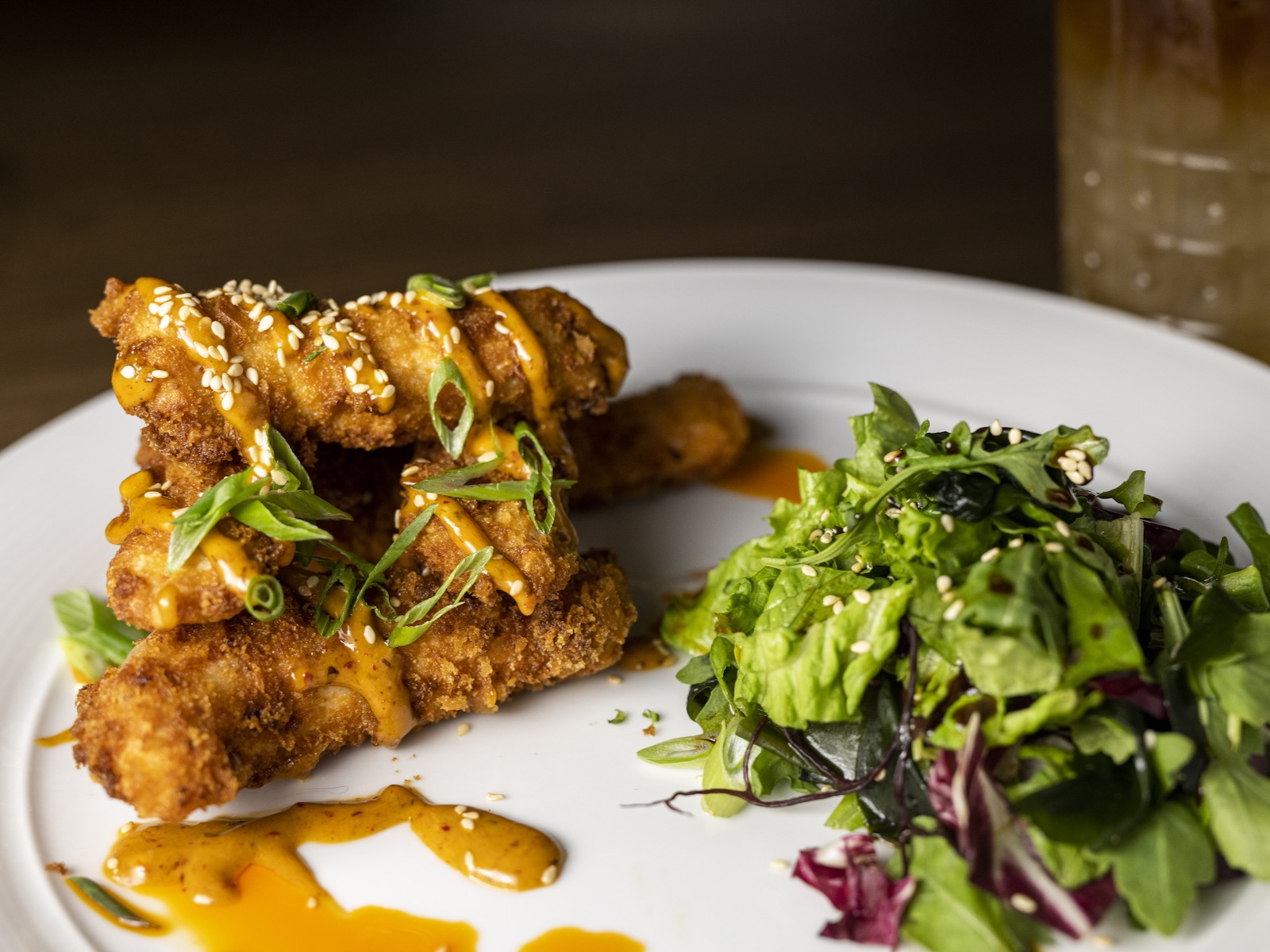 But the menu is also fun and adventurous, with items like a Japanese-style okonomiyaki pancake filled with smoked rainbow trout ($ 14). It's traditionally topped with bonito flakes, a garnish of smoked fermented tuna that's so finely grated that, when added to the dish, it dances on top of the pancake, providing a generous dose of dinner show, that Muench lightly described as the "cirque de soleil de la Côte-Nord. And yes, you will definitely want to try it."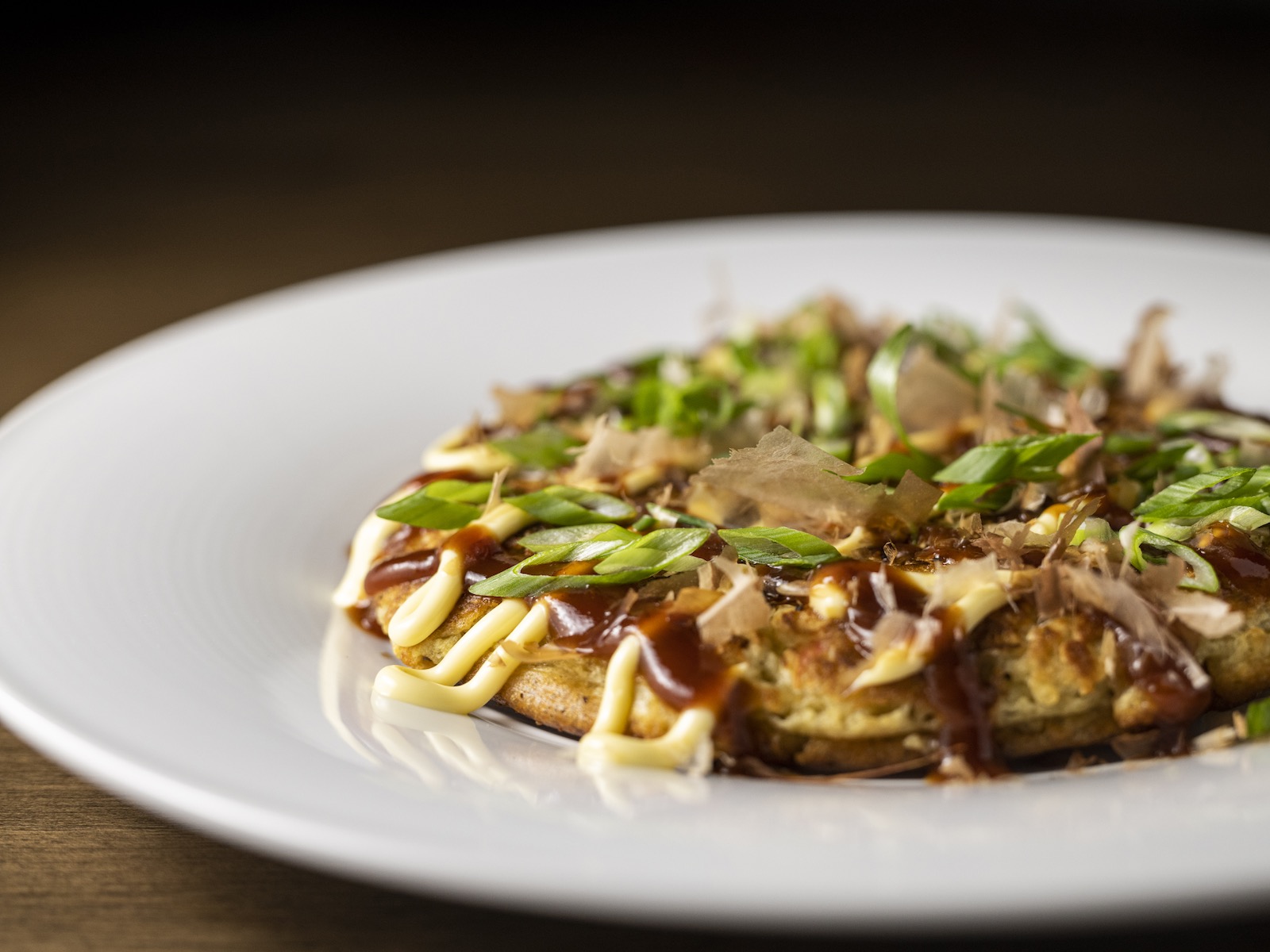 Buttermint's main courses offer something for everyone, from homemade pasta with braised vegetables, mushrooms, rosemary oil, and Parmesan ($ 22); a breast burger with classic fixings ($ 16); and a grilled Iowa pork chop served with celeriac mince, candied bacon, potato croquettes and a calvados reduction ($ 29).
Looking for steaks? There's Niman's grilled strip loin, which is aged in the house for six weeks before ending up on the plate alongside potato steak, grilled broccolini, red onions, and pepper sauce. ($ 44). But there's also the pan-roasted elk loin served with tea-infused grains, candied sweet potato, escarole, and blackcurrant bordelaise ($ 38).
On the seafood side, the North Atlantic plaice is treated with a light touch and served with mashed potatoes, beans with cipollini onions and verjuice butter ($ 29).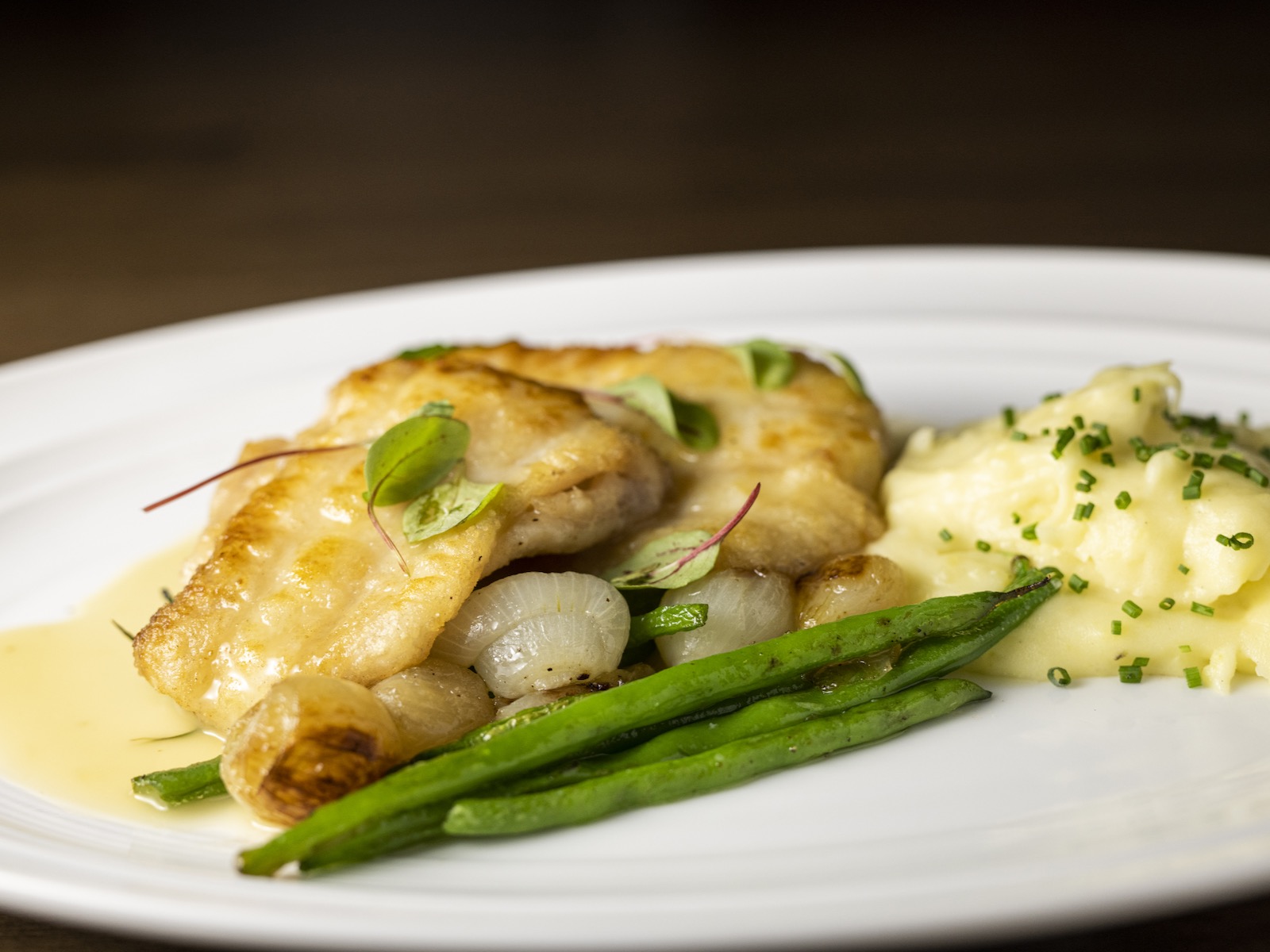 Meanwhile, grilled swordfish is topped with Asian-inspired sticky rice, accompanied by sautéed butternut squash, apples and red cabbage, black vinegar, and green curry ($ 31). Meanwhile, the arctic char takes on a Bavarian twist thanks to smoked pork lentils, swiss chard and a chanterelle cream sauce ($ 25).
Old-fashioned dishes like sautéed veal liver are paired with sides like black garlic mashed potatoes, spinach, and port sauce ($ 26), while the Amish chicken breast is roasted and served with homemade pelmeni (Russian dumplings) filled with chicken sausage, squash and spinach ($ 26).
Buttermint's rotating dessert selection will also draw inspiration from classics, says Muench, particularly European-style pies from Switzerland and Austria that the pastry team deconstructed and presented with a modern twist.
Examples include The Messy Romanoff, a collision between Eton Mess, a traditional English dessert made with strawberries, meringue and whipped cream, and Strawberries Romanoff; as well as Oeufs a la Banana, a version of the classic French dessert eeufs a la neige (eggs in the snow) with delicate poached meringues and burnt bananas.
Another twist? Sorbet will also be an option for those looking for a simple, nostalgic after-dinner treat. Dessert wines and cocktails including a White Russian and Brandy Alexander (the cocktail, not the frozen drink) will also be available.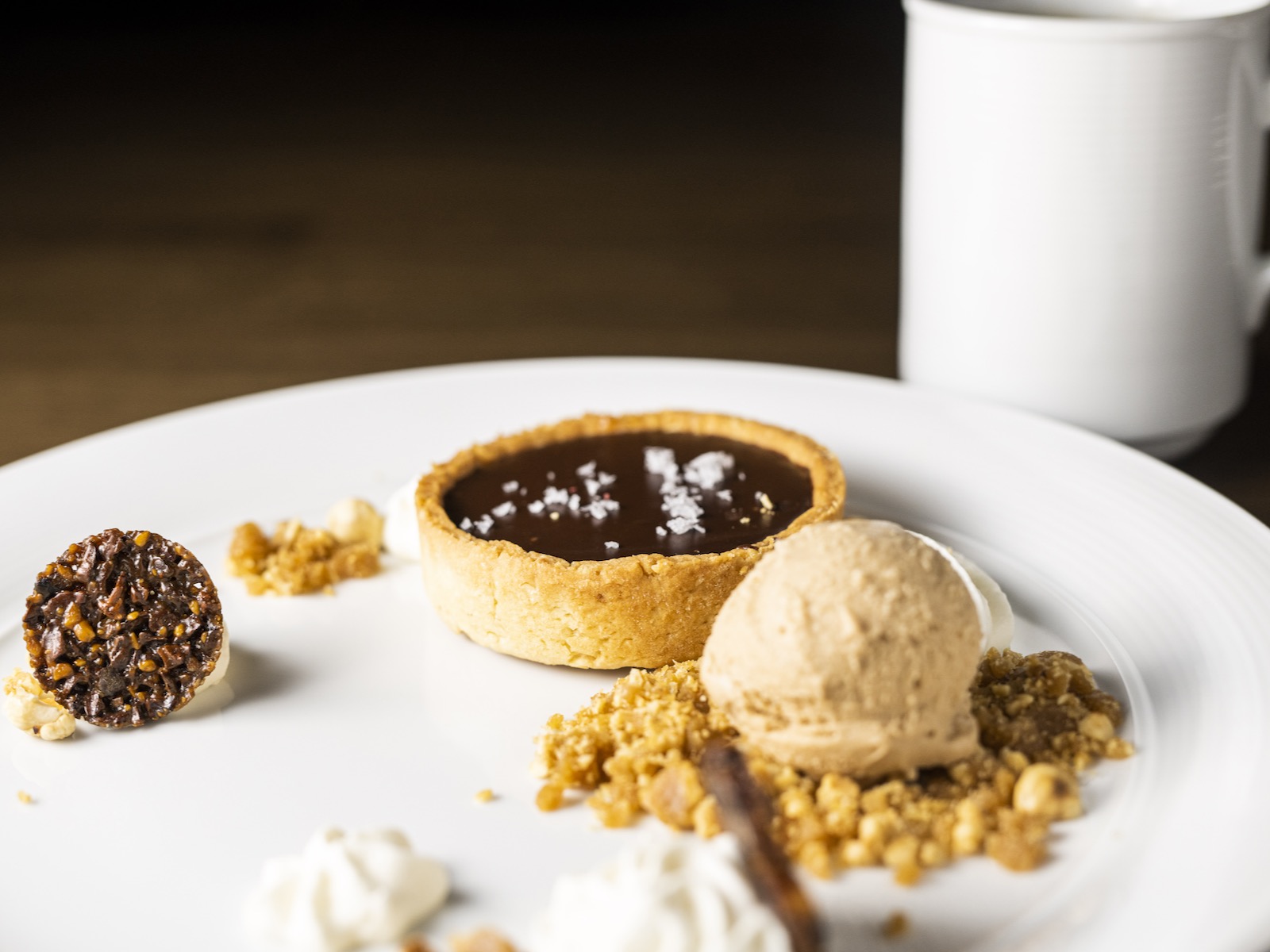 At the bar, guests will find a wine list curated by co-owner, operations and beverage director Jason Kerstein, featuring over 150 selections priced at $ 32 to $ 98 per bottle and $ 10 to $ 15 per glass poured. . The beers on tap will feature local and regional craft beers from breweries such as New Glarus, Third Space, and Eagle Park (priced at $ 6 to $ 8).
But, the real treat might be in the cocktail list, which includes a list of classics including The Last Word, Vesper, Sloe Gin Fizz, Sidecar, and a Rye Manhattan.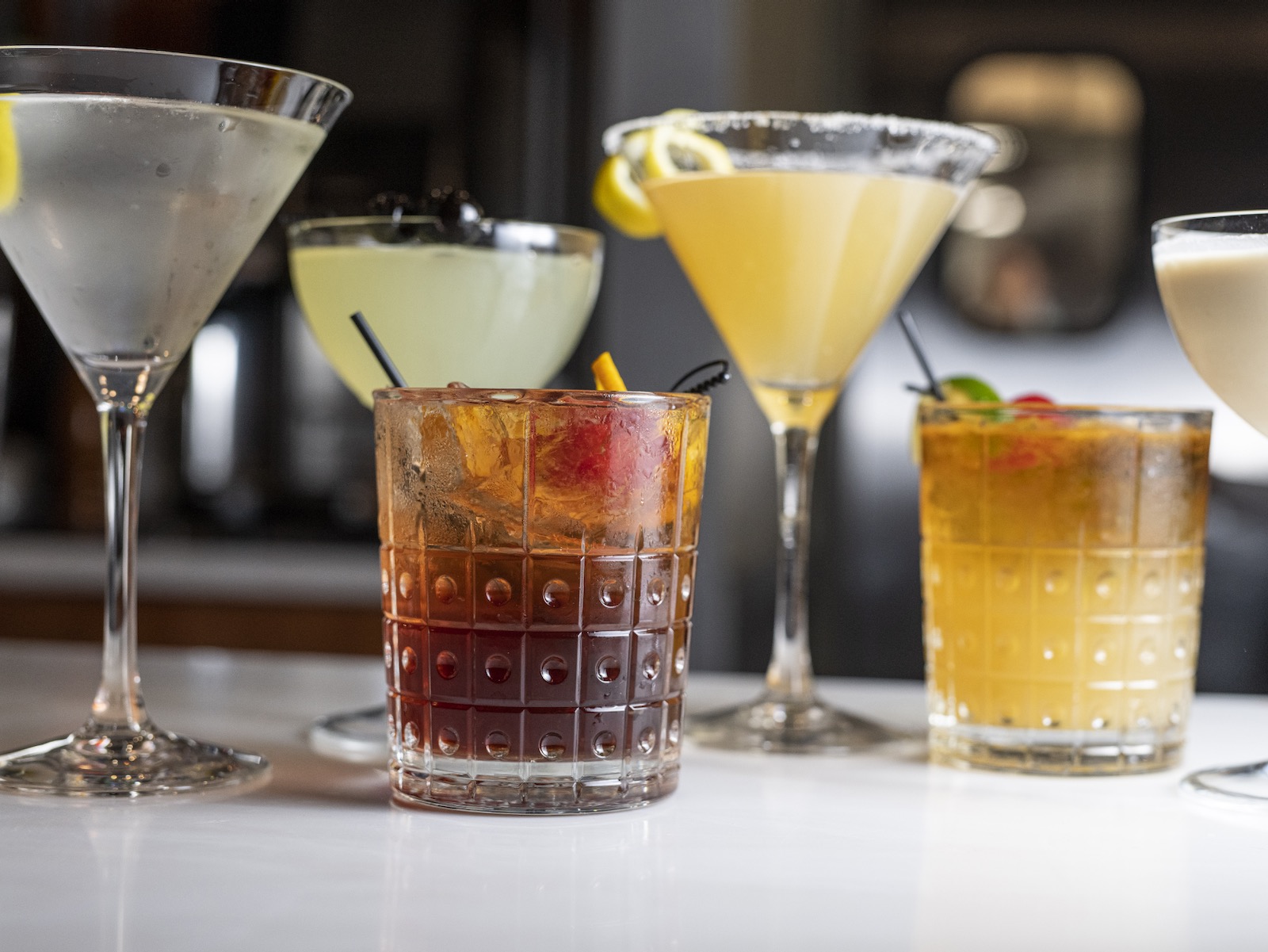 Highlights include The Original Mai Tai made with aged rum, Cointreau, lime, barley, and a dark rum float ($ 10); and the Shorewood Shirley, an adult riff on the children's cocktail with Central Standard Door County Cherry Vodka, Grenadine and Sprite ($ 9). And yes, there's an Old Fashioned Buttermint made with Central Standard North Wisconsin brandy ($ 9), as well as a premium Long Island iced tea made with Wheatly Vodka, Tanqueray Gin, Exotico Tequila, Rum. Bacardi, Cointreau, Acid and Coca-Cola ($ 10).
Non-alcoholic cocktails include French 57 (Seedlip Garden Spirit, lemon, simple syrup and sparkling na, $ 8) and Oakland Streetcar (elderberry, grapefruit and lime cordial, $ 7) as well as a selection of non-alcoholic beers and sparkling riesling. Coffee, tea and soft drinks are also available.
Even happy hour at Buttermint is a memorable occasion, with beers and specialty cocktails from 4 p.m. to 6 p.m. every day of the week. Guests can also enjoy the North Shore Pour, a particularly generous glass of wine (or a bonus hunter to enjoy with a beer or cocktail).
"Mint has been a long time coming," says co-owner Amy Kerstein, who operates the restaurant alongside Jason Kerstein, Dan Sidner and Joe Muench. "Our team has helped us build this through incredible challenges. We are excited to share what we have created with the community. We hope Buttermint will be a gathering place for generations to come.
Buttermint will offer its full menu for dinner Tuesday through Saturday from 5 p.m. to 9 p.m. Reservations are strongly recommended and can be done online on OpenTable or by calling (414) 488-2587.
Guests without an appointment will be accommodated as space permits; seating in the bar and lounge will also be available for impromptu dinners.
Buttermint will be closed on December 24 and 25, but will offer a dinner service from Monday December 27 to Friday December 31 (closed January 1).
Starting in Spring 2022 (or staff and operations permitting), Buttermint will also launch a premium brunch service on Saturdays and Sundays.