The first thing you notice upon entering Amba — an almost museum-like space of pitch black, thick rope, shades of rattan, and dim light in Hingetown — is the intense smell of simmering, spicy Indian cuisine.
"The concept is inspired by Southeast Asian spices," says interior designer Kelley Shaffer, who succeeded in her bid to create one of Cleveland's most otherworldly dining spaces. "I wanted to deprive the senses so that you are completely overwhelmed by the food."
Located inside the "Tiger Building" on West 28th Street, nicknamed after the towering colorful "Flying Tiger" mural by artist Michela Picchi, Amba is the latest offering from chef Douglas Katz and his business partner Todd Thompson. The former machine shop has been transformed into a 5,000 square foot restaurant with two separate rooms, including the adjoining cocktail bar, Bar Amba. While the decor may cause the biggest stir among those of us who got an early glimpse, the food, which builds on the Indian-influenced ghost kitchen concept that Katz launched in 2020, doesn't should not be ignored. The kitchen is led by Executive Chef Cameron Pishnery, who has worked with Katz from Fire Food & Drink, where a tandoor oven inspired early experimentation in Indian cooking.
"This is the restaurant our team is working on," says Katz, who stars as director in the film Amba. "We have a dream team of people who are truly passionate about their areas of expertise."
Here's everything you need to know about Amba, which opens May 24.
Space
From a former fluorescent-lit machine shop, once home to Schaefer Printing Co. and built in 1923, the building has undergone a dramatic transformation into a whimsical and attractive restaurant and lounge. Thompson, the restaurant's chief curator of vibes, describes Shaffer's vision for the space as a neoclassical painting of Jacques-Louis David or even Leonardo da Vinci's Last Supper, where subject highlighting is in focus. to create drama. So bright, illuminating light fixtures against blank walls illuminate the buzzing crowd like film noir. Even Leonardo da Vinci's Judas and Jesus might get a kick out of the enveloping deep house and French electronic music playlist that Thompson has meticulously curated over the past year.
"A restaurant experience should make you feel like you're somewhere else," says Thompson. "The whole idea is to be transported, to get away for an hour or two."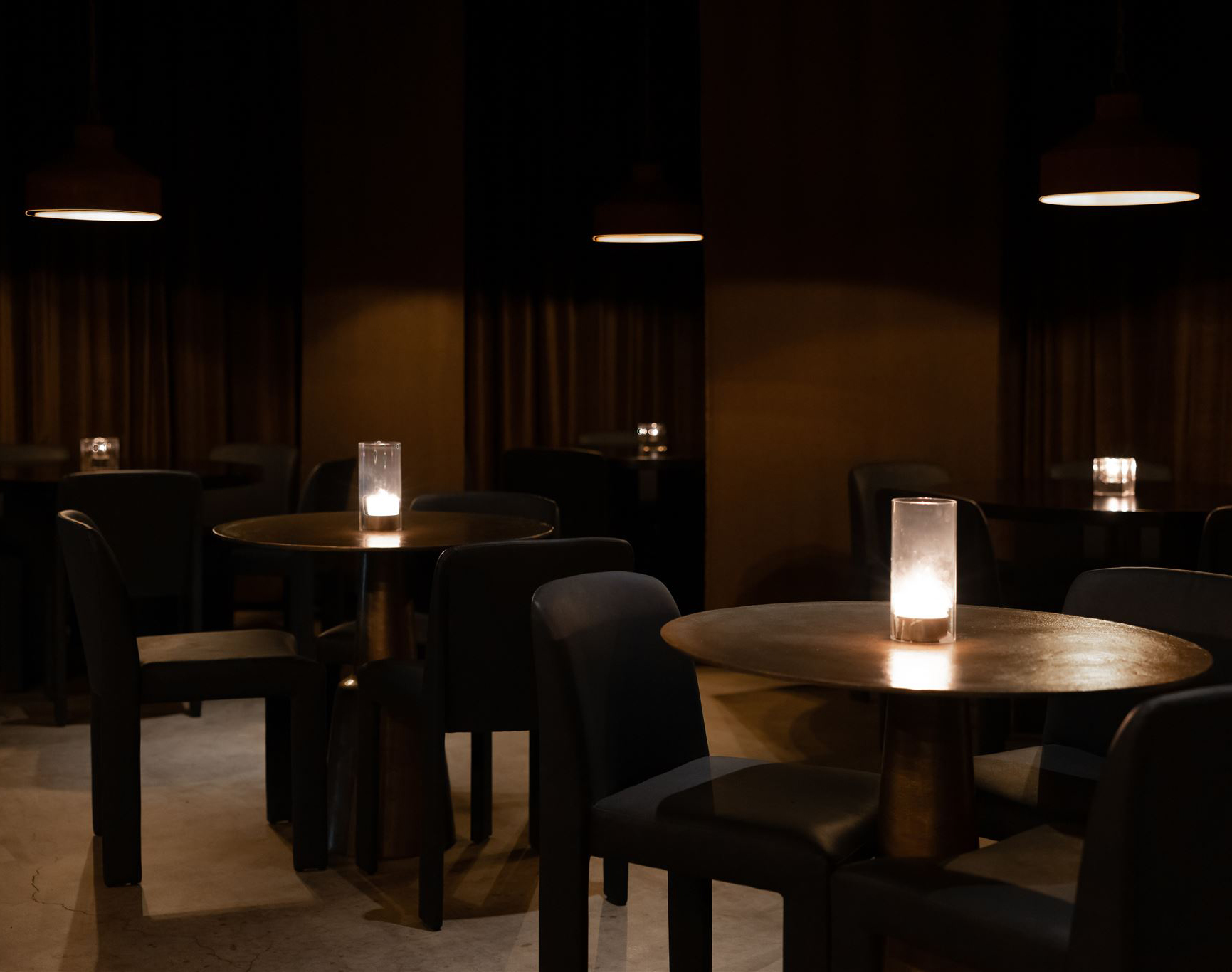 Amba is divided into two connecting rooms with independent entrances: the main restaurant, which seats 80 people, and Bar Amba, the cocktail bar run by Noah Biddle, which seats 40 people. Three large, thin, rounded windows bring a little more light into the main room. room lit by shiny triangular rattan shades along the ceiling and tulip light fixtures on the table. A stone bar and twisted rope ceiling bring texture to the space. Two walls of banquettes and rectangular tables in the middle of the room are designed for spontaneous additions to your party. In fact, the spacious room doesn't feel crowded at all, as if it could hold much more than it's currently configured to accommodate. Meanwhile, Bar Amba's lounge is cozier, even darker, and more secluded with candlelit bistro tables separated by sheer fabric partitions.
"You're really immersed in the experience," says Katz.
The drinks
Expect the orange and brown hues of the food menu (more on that in a second) to extend to the spirits on display in each room's unique cocktail list. Plus, a list of mostly sweet white wines, such as Rieslings, and sparkling wines pair perfectly with spicy cuisine, even if you think sweet wine isn't your thing.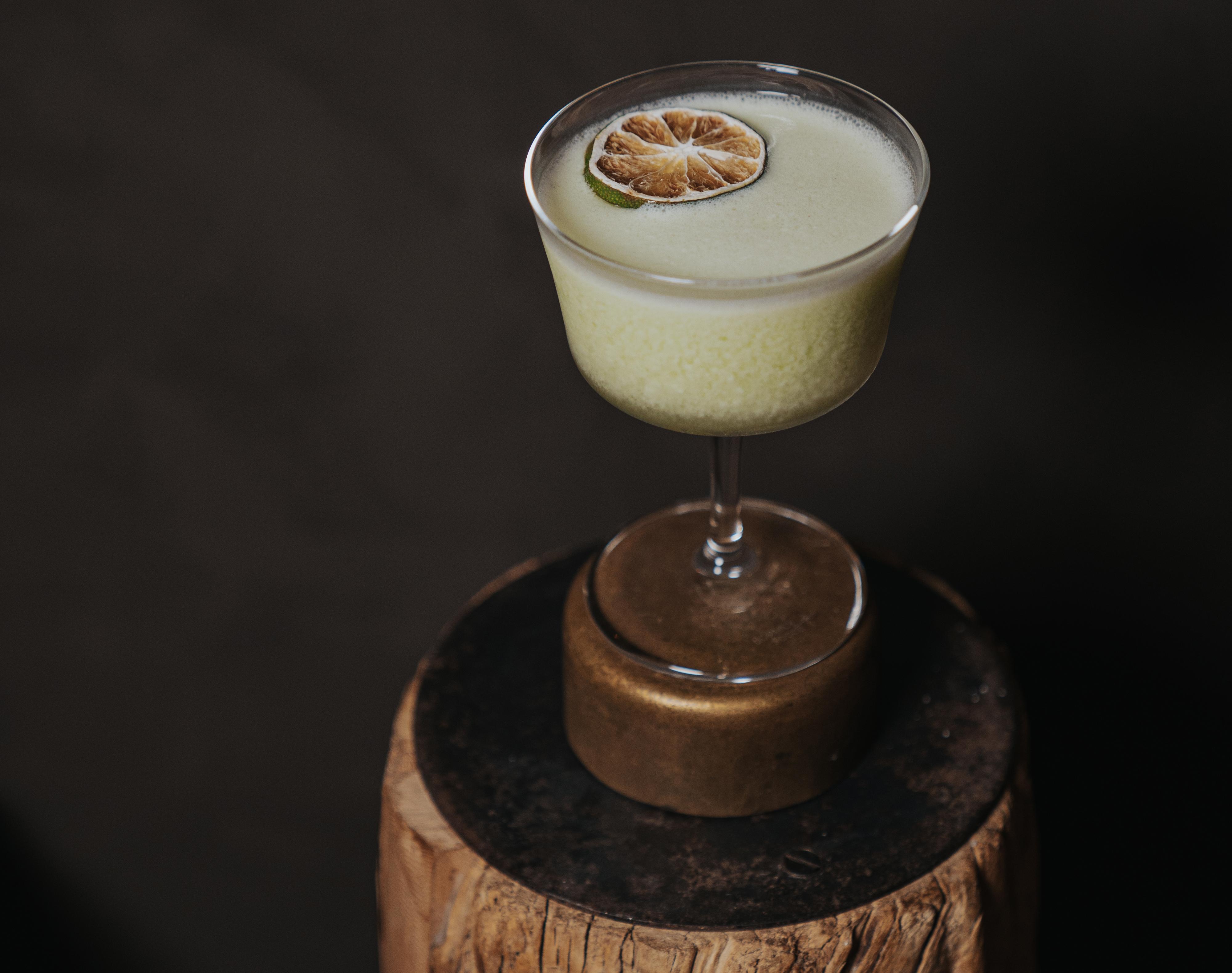 "Something like a gin is just going to get knocked over by the food — all the delicate aromatics and botanicals would just be crushed," says Thompson, though gin and vodka shine on the menu in sips like the Frost & Licorice ($15) , a tangy mix of gin, Pernod, maraschino liqueur, lime and grapefruit. "So we needed something that has big shoulders, and the whiskey has that inherent sweetness and smoke and oak. You wrap vanilla smoke around mango juice, pineapple juice or anything sweet with an exotic fruit flavor and you get a really cool flavor.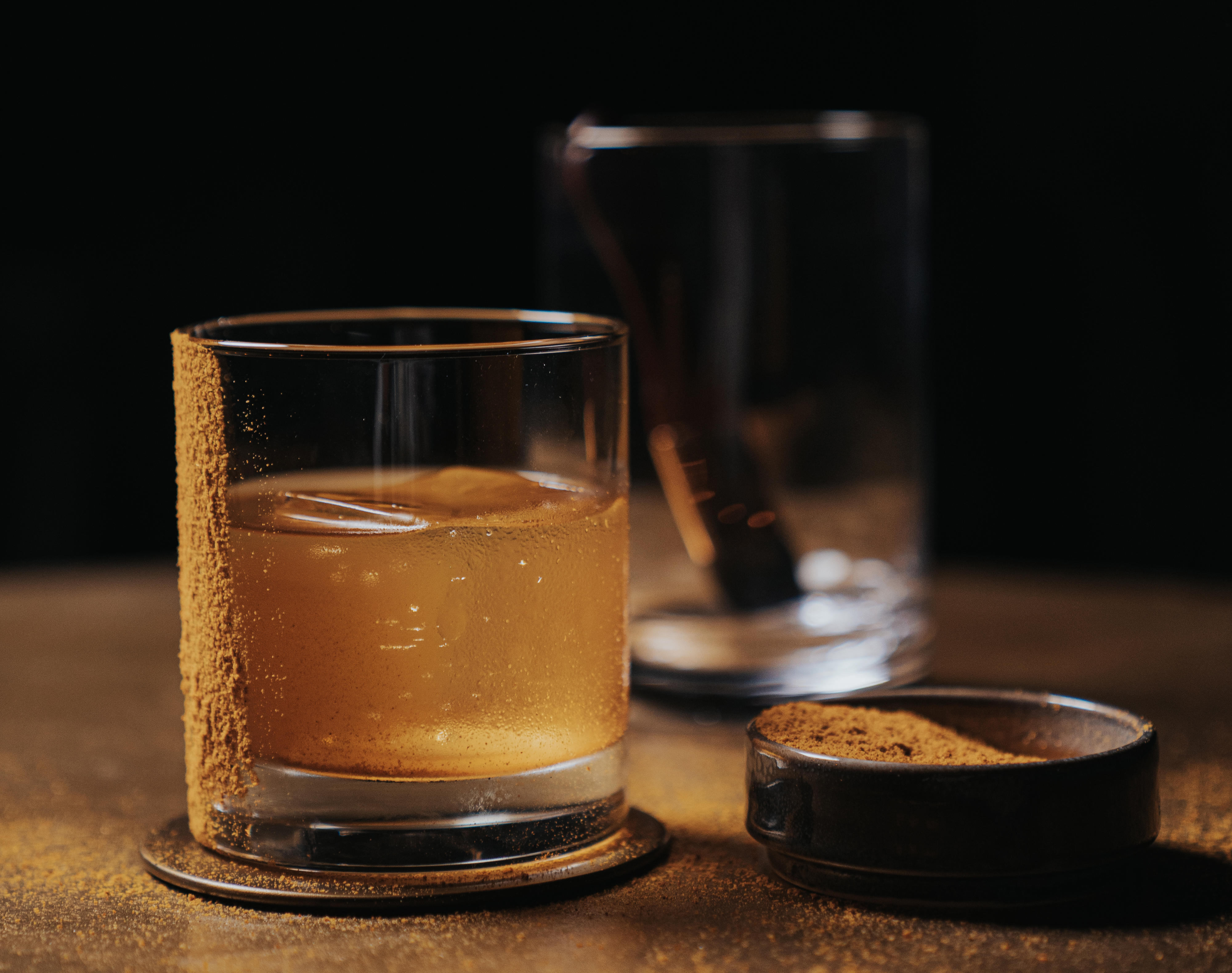 On the restaurant's list of eight cocktails and a few no-proof options, the a5 ($14), which mixes bourbon chai, mango puree, yogurt and orange liqueur, and the a7 ($13), with tequila blanco, mezcal, agave cardamom and lime illustrate this sweet-spicy blend. Meanwhile, Bar Amba offers nine diverse signature drinks that play magic pairings, three shots and seven classic cocktails for the traditionalists. So far the Gypsum & Flint ($15) with bourbon, rye, Barbados rum, garam masala, dark bitters and mace and the Verbena & Root ($14), a fresh blend made with tequila blanco, yuzu , verbena leaf and ginger are mouth-watering.
The food
Fans of Katz's Middle Eastern and Mediterranean menu at Zhug will find a familiar setup with Amba's list of offerings, despite its Indian influence. The spirit of sharing and building your best bite certainly lives on. "People love sharing in Zhug and doing it where it's very basic," Katz says. "It's about mixing and matching and getting different flavors."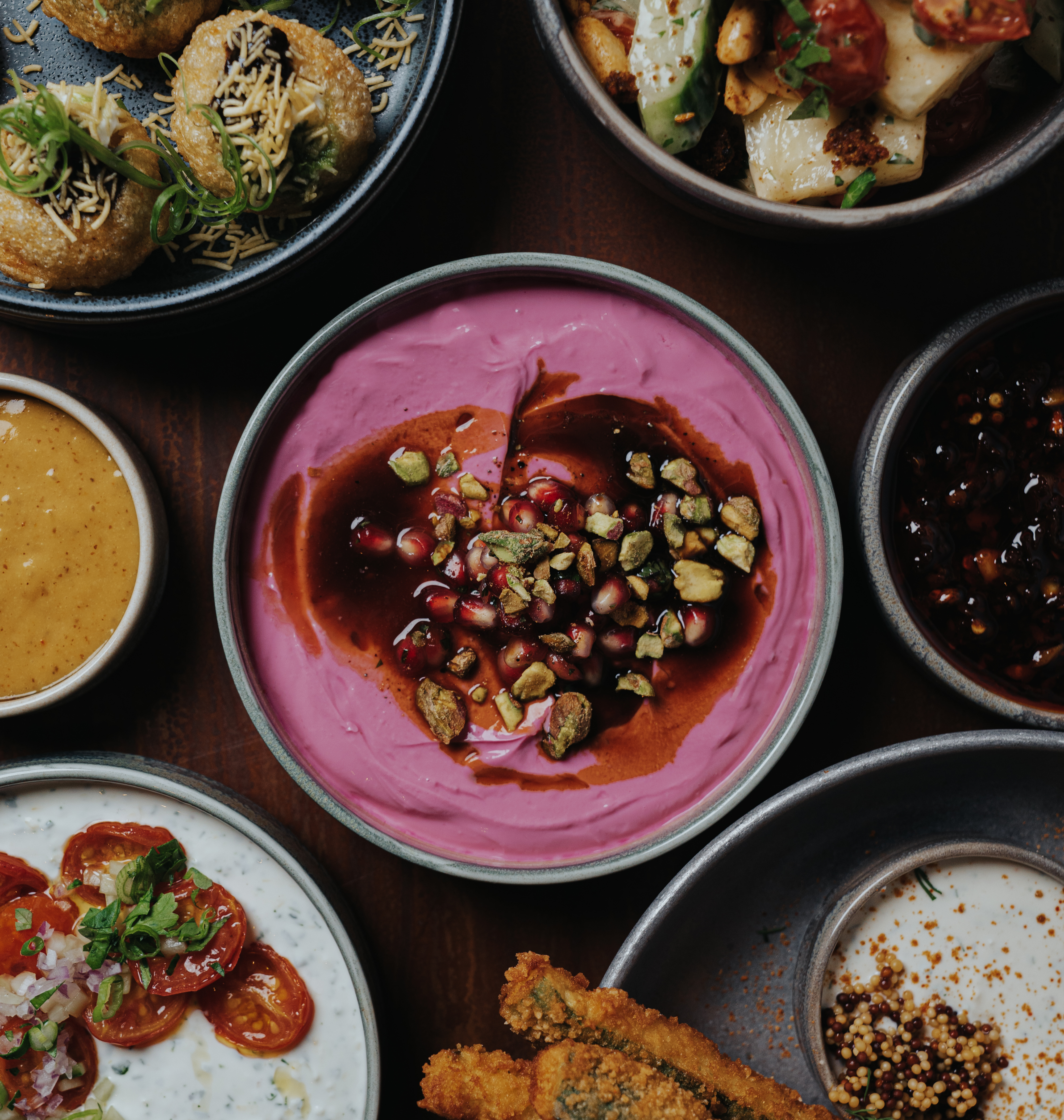 Start by ordering clay bread ($5) and/or the gluten-free toasted flatbread ($7), similar to naan bread, to dip in accessories such as crispy chili ($3) and beet root or the herb raita, which can certainly work on its own for the right person but shines as an accompaniment to dishes like grilled chicken tikka ($17) in a creamy sauce and hearty paneer cheese ($18) in a bean dal stew with bacon, a regional legume. Still, our top favorite is the Turkish Fried Eggs ($18), served in a bed of dill, yogurt and chilli butter, accompanied by the Pilau ($11), basmati rice, quinoa, spices and herbs and Crispy Puris ($13), a wafer-shaped ball stuffed with a refreshing potato salad and mint zhug. Of course, everything will be better with the homemade sauce, amba, a pickled mango chutney that resembles barbecue sauce.
Those new to Indian cuisine may find the menu a bit difficult. If so, order one of the chef's tasting menus (from $70) or use them as a guide to plug and play the dishes you want to try.
Nonetheless, the exploratory menu and curated vibe come together to create a one-of-a-kind experience never before seen in Cleveland. With ethereal décor and thousands of flavor combinations, Amba is a restaurant that demands repeat visits.